Life was busy last week for MAA members and the MAA team at the Paris Airshow.
---
Eighty UK companies exhibited, 8 of them on the MAA stand.
Business was brisk throughout the show with a continual stream of meetings between MAA exhibitors and customers on their own "pods" or the central meeting area.
The Minister of State for Trade and Investment, Lord Francis Maude visited the show and spoke to MAA members exhibiting on the stand.
Highlights of business on the MAA stand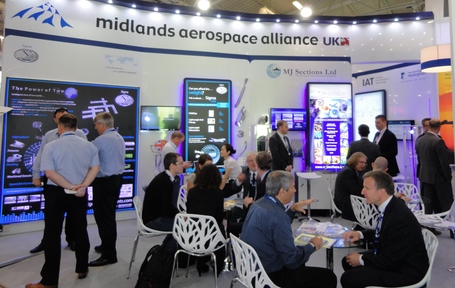 Business meetings for companies exhibiting on the MAA stand
Eight companies exhibited on the MAA stand. That made the Midlands presence the second largest regional stand within the UK Pavilion. Many other MAA members visited the show and the MAA team enjoyed catching up with them when they dropped by the stand. Member companies that exhibited included ConsultAvila, G&O Springs, Institute for Aerospace Technology, Maycast, Sigma and first time exhibitors on the MAA Paris stand Dynamic Metals, MJ Sections and Spincraft.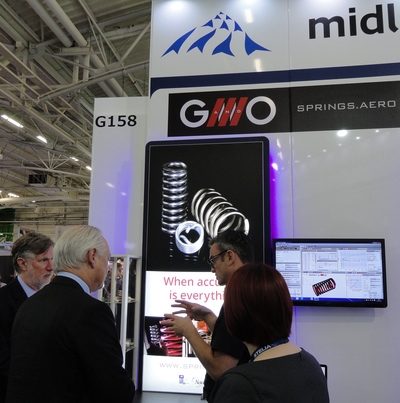 Lord Maude talks with Steve Boyd of G&O Springs on the MAA stand
Feedback from exhibitors
Comments already received from MAA exhibitors:
It was the best exhibition that we have done

We made contact with a number of potential new customers from Europe and the UK

Great show – we met with a number of new contacts and most of our existing clients

Being part of the MAA at an exhibition means that potential customers might happen to arrive at the stand, even though they came to see another company

We planned many meetings with existing and new customers -- but unexpected meetings with GE Aviation and MAN Diesel & Turbo made our efforts even more worthwhile

We recorded 30 enquiries from passing visitors to our stand -- we are very happy with our experience at this event

We made a mistake not exhibiting in 2013 - it's been a very good event this year

All in all a good show, we met many existing contacts that we wouldn't normally get the chance to see due to their location

We had excellent meetings with Liebherr Aerospace, Zodiac Aerospace, Lisi Aerospace to name just a few

The stand was very impressive as a whole, let alone individually. Individually, the pods were very well laid out with the large lightbox and display cabinet, we were able to display our parts and make the right impression

MAA staff were professional and helpful as always
Activities on the MAA stand
The MAA organised a networking event with our TransNetAero partners.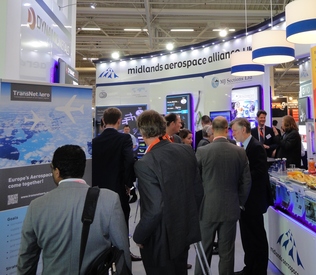 Midlands TransNetAero networking event on the MAA stand
More pictures of the MAA stand and exhibitors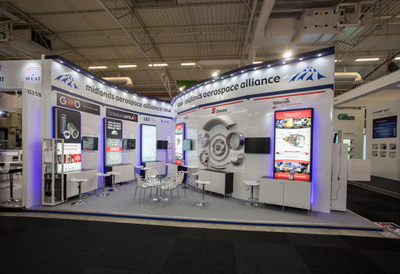 View of the MAA stand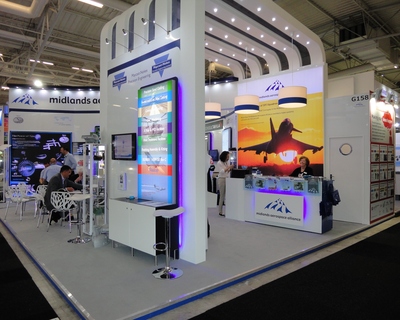 View of the MAA stand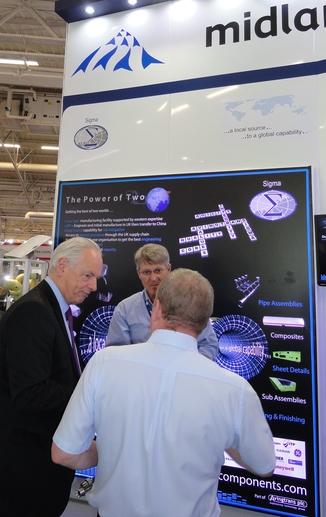 Lord Maude meets Mark Johnson of Sigma Precision Components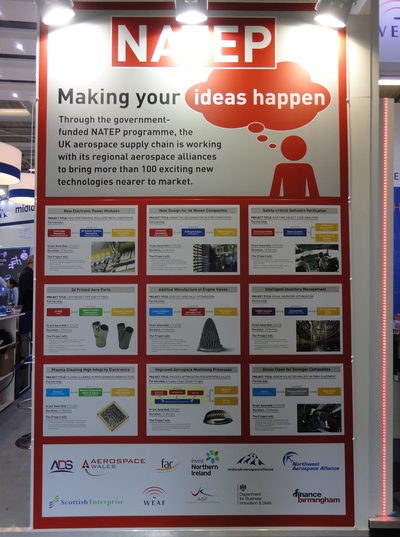 Display of Midlands NATEP new technology projects
Airshow statistics
"A record-breaking event" -- GIFAS (French national aerospace body) press release
Exhibitors: 2,303 exhibitors (a 4% increase on 2013) from 48 countries (44 in 2013)
Visitors: 351,000 visitors (an increase of 11.4%) including;
Trade visitors: 151,000 visitors (an increase of 8.6% over 2013)
General public: 200 000 visitors (an increase of 13.6% over 2013)
Business deals: $130 billion worth of orders were announced including:
934 commercial airliners
Airbus, Boeing, ATR, Embraer ($112 bn)
Airbus: 421 aircraft ($57 bn) – Boeing: 331 aircraft ($50.2 bn)
835 CFMI engines ($14 bn)
52 Airbus Helicopters (€550 m)
900 micro-satellites for Airbus Defence & Space (constellation for Internet connections)
If your company is interested in exhibiting with the MAA at any future airshows please contact Emma.