Busy Farnborough Airshow for MAA and its member companies
---
The headlines at the Farnborough Airshow 2014 may have been taken by another round of big aircraft and engine orders, but the show was equally positive for supply chain companies belonging to the 300-member Midlands Aerospace Alliance.
The global aerospace industry orderbook was swelled by a further 1,000 aircraft -- $130bn of aircraft and engines combined -- with Airbus, Boeing, GE and Rolls-Royce all announcing significant contracts. Airbus announced the launch of re-engined Airbus A330 models with a new Rolls-Royce Trent 7000 engine set to help reduce fuel consumption by 14%. Meanwhile, sixty-nine aerospace companies with operations in the Midlands exhibited at the show, 27 of them presenting themselves on a superbly designed MAA stand which was very busy with meetings and discussions for four solid business days.
Several VIPs visited the MAA stand, with the highlight being Prime Minister David Cameron's meetings with two of our exhibitors; Maycast Nokes and Sigma Precision. The MAA organised a series of high-quality networking opportunities for exhibitors including "meet-the-buyer" meetings with a number of big Midlands customers.
Highlights of the show
Organisers Farnborough International reported that the show as a whole was as busy as 2012 in terms of trade visitors.
Exhibitor numbers were slightly up on 2012.
More than $130bn (£80bn) or aircraft and engine orders were announced at the show, including over 1,000 new aircraft.
There was strong government presence at the show -- including from Prime Minister David Cameron and Industry Minister Vince Cable.
Highlights of business for Midlands companies
Twenty seven companies exhibited on the MAA stand making the Midlands regional presence the largest -- worldwide -- at the entire show. More than 150 MAA member representatives worked on the stand at one time or another during the week.
Forty two further MAA members were present at the show with their own stand. And many other MAA members worked hard at the show as trade visitors. The MAA exhibitors and team enjoyed networking with them all on an MAA stand which drew many admirers for its sense of spaciousness and openness to business. In addition, our NATEP supply chain technology team fielded numerous enquiries and helped companies develop potential projects.
According to MAA chief executive Dr Andrew Mair:
"Once more the MAA stand was brimming with business meetings for days on end, which can only be good for our companies. And once more we were delighted with the mutual support given by so many members of the Midlands aerospace community, from large companies to small firms, and from industry to the political world."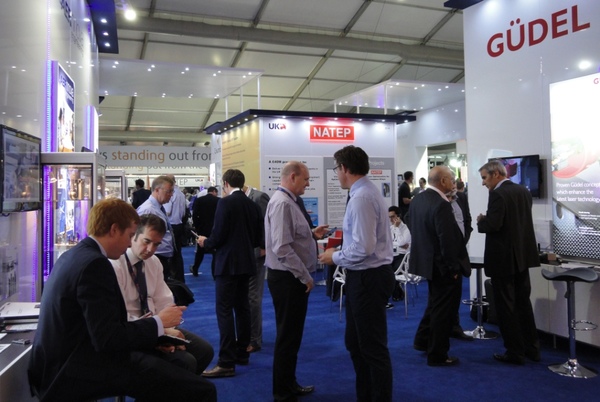 Meetings on the MAA stand
Feedback from exhibitors
Initial reactions from MAA exhibitors included:
Several excellent meetings with existing and potential new customers.
Stand even better than in 2012
Superb support from the MAA team made it a smooth and easy process to exhibit
Just a great show for us business-wise
Meeting with customers and partners at Farnborough always accelerates projects – it's a must for us
Our first time at an aerospace show, and the MAA gave us exactly the right targeted advice so we could make the most of it
The way the MAA helped us showcase our company so professionally makes us proud to be representing the company
Thanks again for all your support; sign us up for 2016!
The MAA organised a great Meet-the-Buyer event for exhibitors
We wouldn't exhibit on our own - thanks MAA
VIPs
VIPs who visited the MAA stand to discuss subjects ranging from business prospects to the NATEP technology programme included:
UK Prime Minister David Cameron
UK Industry Minister Michael Fallon
UK Defence Procurement Minister Philip Dunne
Shadow (Labour Party) Minister for Competitiveness & Enterprise Iain Wright MP
Wolverhampton MP (Labour Party) and Chair of the All-Party Parliamentary Aerospace Group Emma Reynolds
MP for Stroud (Conservative Party) Neil Carmichael
Director, Advanced Manufacturing and Services at the Department of Business Innovation and Skills Janice Munday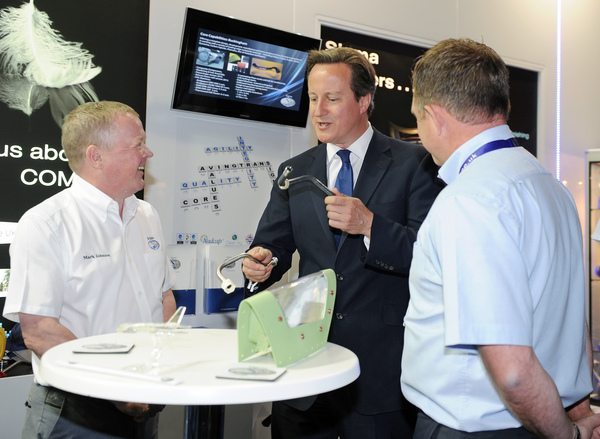 Prime Minister David Cameron meets Sigma Precision
Activities on the MAA stand
The MAA organised a series of business opportunities for exhibitors over the course of the week
Meet-the-buyer for MAA exhibitors with Rolls-Royce, Rolls-Royce Controls and Data Services (formerly Aero Engine Controls), Nasmyth Group and Meggitt.
Visit by French aerospace suppliers in the Rhône-Alpes cluster near Lyon.
"Home and away" technology partnering meetings with the MAA's twin Italian cluster Torino-Piemonte Aerospace
VIP networking event with US State of Washington (home of Boeing) aerospace suppliers and Governor
Wolverhampton aerospace reception (organised by the City Council and University, supported by the MAA)
Coffee morning to promote the National Aerospace Technology Exploitation Programme (NATEP) for aerospace suppliers
SC21 promotion day organised on the MAA stand by the MAA SC21 Working Group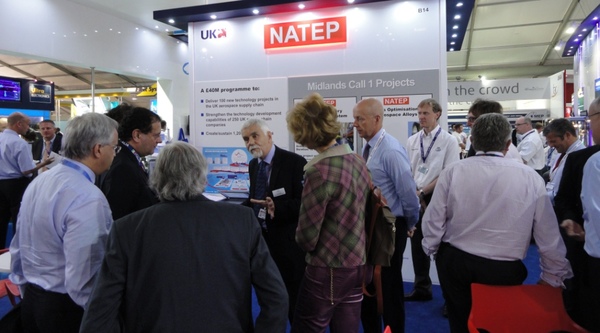 NATEP presentations given to Torino-Piemonte Aerospace cluster

Other highlights of Farnborough 2014 included
In addition to the MAA core team, 12 of the MAA's 16 directors worked on the stand over the course of the week or came along to talk business with our exhibitors.
We worked closely with UK Trade and Investment and our national body ADS to secure 5 grants for MAA members to support their Farnborough presence, and so exhibitors could participate in the UK meet-the-buyer meetings with UK and overseas primes.
Two exhibitors, Accrofab and G&O Springs, brought their staff to the MAA stand and the airshow to offer them a window onto the global aerospace industry as a whole they might not otherwise get – hats off to these two companies!
The Midlands presence at Farnborough generated a significant amount of promotional publicity for the MAA and for member companies in regional and national media.
The MAA team worked hard behind the scenes during the week planning future business opportunities for MAA members – in Italy, in Connecticut, at the Paris Airshow 2015, in the Czech Republic – so "watch this space!"

MAA members exhibitor list for 2014
Click on the company names for more information:

Sponsors of the MAA stand at Farnborough 2014
Click on the logos for more information:
Click here to see the Midlands Farnborough 2014 photo gallery.