Constitution of the board
The major aerospace companies Collins Aerospace, Meggitt, Moog Aircraft Group and Rolls-Royce are permanently represented on the MAA board of directors by senior managers. MAA members elect additional directors for two-year terms. Other directors are appointed to ensure that a variety of expert perspectives from across the Midlands aerospace cluster are brought to bear on board decision-making.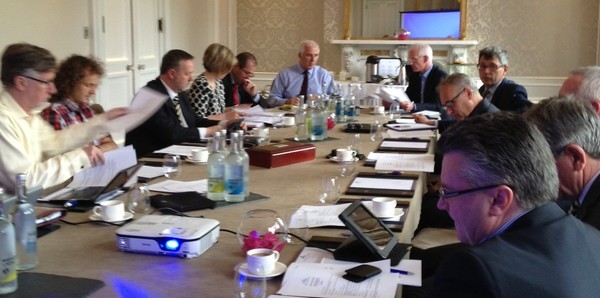 MAA board meeting
We announced the names of two newly elected directors and one director returned to the MAA board for two year terms of office at the MAA members meeting and AGM on 7 November 2019 held at the Derby Conference Centre.
The new directors are Craig Fullwood, Manager, New Product Introduction, MJ Sections and Stephen Molloy, Aerospace & Technology Director, G&P Group Holdings. Peter Bruch, Managing Director, AE Aerospace, was re-elected. Steve Cheetham and Alan Duffield were thanked for their service on the MAA Board.
Directors from our four major companies
Steve McMulkin, Group Quality Manager, Meggitt, Coventry, Birmingham, Shepshed
Stuart Mclachlan, Group Vice President & General Manager, Aircraft Control Components Sector, Moog Aircraft Group, Wolverhampton
Jo Eva, Strategy Executive, Rolls-Royce, Birmingham & Derby
Lisa Swan, Value Stream Director, High Lift, Collins Aerospace - Actuation Systems, Wolverhampton
Elected directors from the supply chain
Peter Bruch, Managing Director, AE Aerospace, Birmingham
Craig Fullwood, Manager, New Product Introduction, MJ Sections, Dudley
Stephen Molloy, Aerospace & Technology Director, G&P Group Holdings, Birmingham
David Whiffin, Managing Director, OdiliaClark, Derby
Appointed directors
Alan Dunbar (Chair, MAA Business Development Group), Director of Aerospace at Thyssenkrupp Aerospace
Robin Hill (Chair, MAA Technology Development Group), Head of Electronics, Collins Aerospace
Jay Patel, Head of Economic Development, Wolverhampton City Council
TBC, Councillor, Derby City Council
Annette Rothwell (Chair, MAA Supply Chain Performance Group), formerly Procurement and Supply Chain Director, Maritime, BAE Systems
Tony Tinley, Regional Officer, Unite the Union