Four new directors bring their expertise to the MAA board
---
Strong leadership is critical for recovering and regrowing the aerospace industry. That's why, at the MAA, we're proud to have more than 60 aerospace leaders across our board and working groups representing diverse organisations across the Midlands aerospace cluster.
At our AGM in November, we were delighted to welcome on board three new directors who were elected by our members:
Samantha Buckton, VP Procurement and Commercial, Bromford Industries
Dominic Cartwright, Chief Executive Officer, Gardner Aerospace
Mark Johnson, NED and Deputy Chairman, Sigma Components
In addition, Gareth Bates, Capability Director, Collins Aerospace, joined the board recently.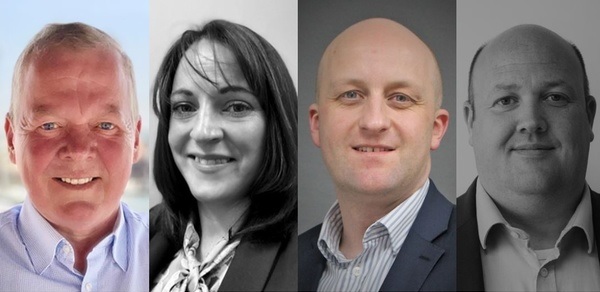 l to r, Mark Johnson, Samantha Buckton, Gareth Bates, Dominic Cartwright
Samantha Buckton
Samantha has 15 years' procurement expertise and has spent most of her career at Rolls-Royce and Bromford Industries, specialising in raw materials, machining and complex fabrications. During her time at Rolls-Royce, her area was recognised as the 'Best Procurement Team' at the annual Procurement Leaders Awards.
"The pandemic has rocked the aerospace industry and has forced organisations to 'right size' quickly," Samantha said. "I'm pleased to be joining the MAA at this pivotal time and will be using my expertise to help find ways to ensure organisations that have had to reduce capacity and release skilled people can still grow in the future. One of my key focuses will be supporting the MAA's Five Point Plan on supply chain resilience through the alignment of procurement strategy with business development strategy as part of the mission to enhance the global competitiveness of Midlands aerospace."
Mark Johnson
Mark has worked in the aerospace industry for 35 years and has been involved with the MAA since its inception in 2003. Having recently stepped down as CEO of Sigma Components and become Deputy Chairman, he is eager to use the extra time he now has to actively support the recovery and regrowth of aerospace in the Midlands.
"The dramatic changes in the aerospace market this year are going to have long-term implications," said Mark. "Heading into the future, the challenge will be to adjust strategies, diversify into new markets and protect volume. I will be working with my extensive network to help Midlands companies navigate these unprecedented times, especially as a consolidation of the supply chain is expected. I want to help protect jobs and businesses in the region."
Gareth Bates
Gareth has worked in the Midlands aerospace industry for 22 years, beginning his career at Meggitt as an apprentice. He progressed through mechanical design and technical leadership roles to senior engineering management positions at Morson Projects before joining Collins Aerospace firstly within Engineering, before moving into Operations and Supply Chain as a director. Assessing the future capabilities of the business is his core focus.
"The pandemic means we are in a very dynamic and changing landscape. The industry is resilient and, through innovation, I believe the region will play a key role in the future of UK aerospace. My main focus as an MAA director will be to fully understand our capabilities across the region and help identify the gaps we need to explore and develop. We must work collectively during this period to accelerate new ideas in readiness for future aerospace demand."
Dominic Cartwright
Dominic is a Midlands-born Aeronautical Engineer with diverse experience across the aerospace sector working for companies including Lucas, Goodrich, Smiths, GE and United Technologies. He is now at the helm of Gardner Aerospace which is a global, tier 1 operation serving the primes direct.
"I feel privileged to have been elected by members. As an MAA director, I will be focused on securing the finance the industry needs to help retain and replace skills. Competition in the industry is fierce at the moment and it's critical that action is taken now to protect skills and capabilities across the region. Demand for new aircraft will return and we will need this to remain leaders in aerospace. The MAA is much more than a trade organisation. It encourages collaboration and innovation which is vital to our future success."
Click here for more information about the MAA Board of Directors.