Nearly 40 Midlands companies have been making components
---
As widely reported, a consortium of UK industrial, technology and engineering businesses from across the aerospace, automotive and medical sectors has come together to produce medical ventilators for ventilatorchallengeuk and help the NHS fight the Coronavirus.
The consortium has now delivered the first ventilators, meeting the demanding specifications for a Rapidly Manufactured Ventilator System that were developed by clinicians and the Medicines and Healthcare products Regulatory Agency.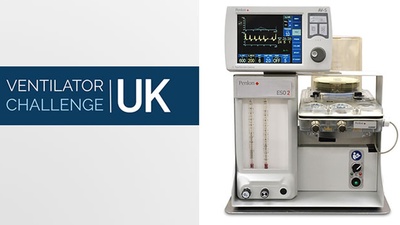 In addition to the well-known UK engineering companies that have received most publicity, a significant number of supply chain companies in other tiers have been instrumental in helping the UK meet the challenge. Many of these have been working night and day to meet the ambitious targets, some delivering tens of thousands of parts.
We're aware of 37 companies (now 40!), from up and down the manufacturing supply chain, in the Midlands alone.
In addition to Rolls-Royce and Meggitt are many other brands that deserve recognition including suppliers of raw metals, makers of tooling for cutting machines, metal machinists, spring makers and companies putting special surface finishes on parts.
The vast majority usually supply the aerospace industry but others also supply the automotive and medical equipment sectors.
A&M EDM
Advanced Chemical Etching
AE Aerospace
Aalberts Surface Treatment
All British Precision
Alloy Wire
Amphenol Invotec
Arrowsmith
Ashton and Moore
Boneham and Turner
CBE+
Exactaform
Gardner Aerospace
G&O Springs
Gould Alloys
HK Technologies
HSM Engineering
Incora
ITC
JJ Churchill
Manufacturing Technology Centre
Meggitt
Micro Spring and Presswork
MNB Precision
MP Engineering
Nasmyth
Poeton Industries
Precision Micro
Produmax
Quick Release
PK Engineering (WB)
Reginson Engineering
Rolls-Royce
Schmolz & Bickenbach (UK)
SL Engineering
Staffordshire Precision Engineering
Star Micronics
Swiftool Precision Engineering
Technoset
Trust Precision Engineering
If you're not on our list yet, please let us know at info@midlandsaerospace.org.uk and we'll add you right away. We want to make sure every company that's helping gets a mention!