Nineteen new technologies in development in the UK aerospace supply chain were on display at the NATEP Showcase 2015.
---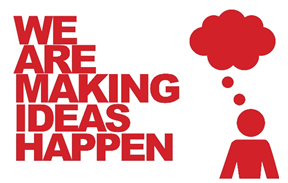 NATEP (National Aerospace Technology Exploitation Programme) is a £40m industry-government programme to mature more than 100 innovative technologies and get them ready for use on tomorrow's future aircraft. The wide suite of new technologies will reduce aircraft fuel consumption by reducing weight, improve aircraft safety even further, and boost the productivity of the UK's aerospace manufacturing companies.
Almost two hundred participants attended to hear presentations, look at the technologies on display, and meet the innovating companies. They came from the big aerospace companies such as Airbus, Rolls-Royce, GKN and UTC Aerospace Systems, from many aerospace supply chain companies as well as from interested parties in universities and government bodies. A visiting group of experts from UK Trade and Investment, normally stationed at British embassies around the world, were able to see the presentations, meet the companies and take briefing materials back with them to promote the capabilities of the UK aerospace supply chain in aerospace markets across the globe.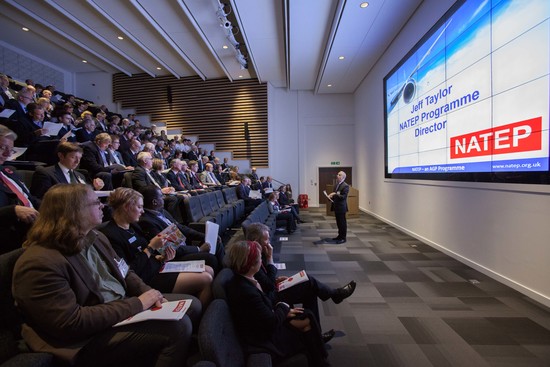 Jeff Taylor, NATEP Director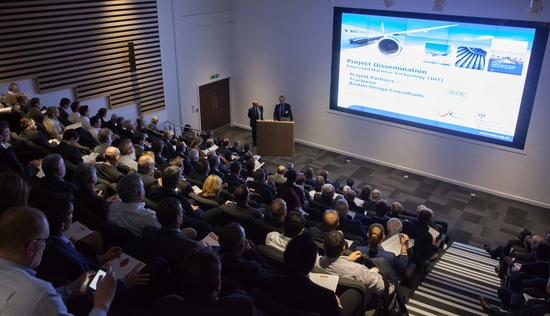 Project partners present their project
The presentations and exhibition themselves involved a total of 50 companies working on the 19 projects, taking stock of the first one-sixth of the projects to be completed by 2017. The projects covered the entire aircraft product lifecycle: engineering new aircraft, designing better parts, improving manufacturing productivity and the safer in-service use of aircraft by the airlines.
The projects included:
Innovations in engineering systems
Reducing aircraft testing costs with simulation software.
Improving safety with systems to verify new aircraft and engine software.
Innovative parts design
Saving weight with flexible printed circuit boards to replace wiring harnesses.
Improving the design, weight and manufacture of aircraft parts with additive layer manufacturing.
Reducing weight with forged magnesium aircraft parts.
Giving parts designers freedom to make new shapes by using water soluble ceramics in the casting process.
Accelerating time-to-market for a new metal alloy by testing the effects of applying different surface treatments to it.
Giving parts designers confidence to use lightweight carbon fibre reinforced plastics by reinforcing them to prevent delamination and crack propagation.
Innovations in manufacturing
Easier assembly of composite parts with better fasteners.
Better manufacturing processes for difficult-to-make parts.
More accurate and robust methods for drilling deep holes in aerospace parts.
Improving the workplace environment and reducing costs by drilling holes in aluminium without liquid chemical lubricants.
Innovations in supply chain management
Streamlining inter-company operations by improving connectivity and visibility.
Reducing inventories with better visual supply chain management.
Helping small aerospace companies to work together by using the same new software tools.
Innovations in aviation and maintenance, repair and operations
Improving safety with systems to avoid collisions at airports.
Making skies safer through better monitoring of UAVs in civil airspace.
Improving maintenance with paints to indicate temperature of parts.
Boosting safety with a long-duration portable oxygen cylinder for cabin crew and first aid use.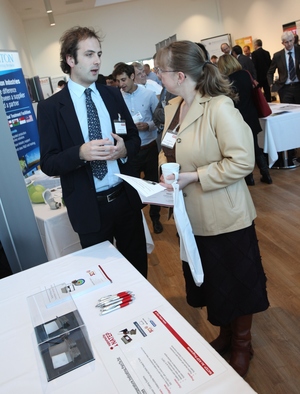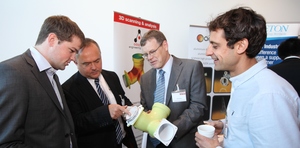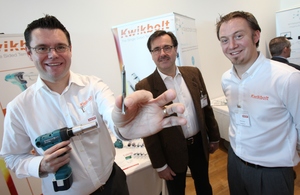 According to Paul Everitt, Chief Executive of the national aerospace body ADS who opened the showcase, NATEP plays a central role in making the UK's industry-government Aerospace Growth Partnership a success. Dr Andrew Mair, Chief Executive of the regional Midlands Aerospace Alliance, commented: "NATEP seems to work better than other schemes because it is organised by industry for industry and fits the way aerospace businesses thinks and works."
Mentoring guidance provided by technology experts at potential aerospace customers is crucial to the success of NATEP, and the 19 projects have a total of 25 mentor companies working closely with them – on a voluntary basis. Rolls-Royce is one of them. Paul Snelling, the company's Head of Supply Chain Collaboration, explained to the Showcase how NATEP is fuelling a series of smaller innovations complementary to big Rolls-Royce research projects. Tom Cook, Head of A350 Wing Architecture and Integration at Airbus, identified the 20 NATEP projects various divisions of Airbus are already supporting as proof of the value Airbus attaches to the programme. Robin Hill, Engineering Fellow - High Integrity Electronics at Rolls-Royce's Controls and Data Services subsidiary, explained how two of the projects his company is supporting will help it overcome some important technical barriers.
While government funding for NATEP was initially set up for England, Noel Brown, Technology Executive, R&D Division, Invest Northern Ireland told the audience that the model is so fruitful that NATEP Northern Ireland has been set up and is already linking small companies that have innovative ideas with large customer companies like Bombardier.
The final project presentations looked back in time to ask "where are they now?" of two supply chain technology projects that were part of NATEP's predecessor support programme ATEP which had supported 11 projects in the Midlands between 2006 and 2012. Megan Anderson, Quality Manager at G&O Springs, explained how through ATEP the company had successfully added design expertise to its traditional make-to-print manufacturing capability. The result is that the company is now winning business with four new customers and is now growing rapidly. Steve Ashworth, Technical Director at Aeromet International explained how their ATEP project to develop a new aluminium alloy, A20X, had opened up new aircraft parts markets and had kicked off the company's first technology roadmap allowing it to participate in a series of follow-on R&D projects.
Andy Page, Chairman of the NATEP National Steering Board and Chief Executive of Sharing in Growth rounded off the day's discussion by congratulating all the supply chain companies on the success of their projects, by summing up the key messages of the day, and reminding delegates of the continuing need to bring new talent into their companies as a source of future innovations.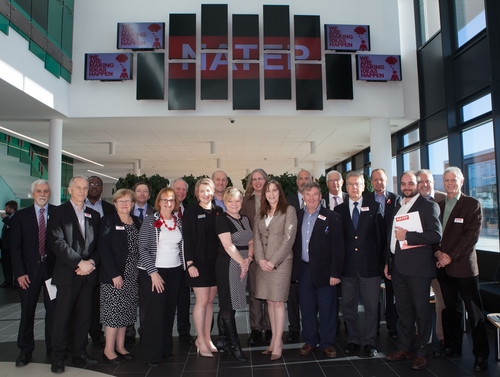 The NATEP team