The Midlands aerospace cluster continues on the path of growth it has followed for the past decade, according to the 10th Midlands Aerospace Alliance annual business survey.
---
The study has also highlighted the productivity increases that are driving growth.
The latest study, conducted with MAA members this spring, reveals further increases in real-terms business revenue (after aerospace industry inflation has been subtracted) as well as employment. Compared with a 2005 index of 100, in 2015 real-terms business turnover has grown at an annual rate of 6.9 per cent to nearly double at 192. At the same time, the employment index has grown by 4.4 per cent to reach 152 – meaning that the industry now sustains half as many jobs again as it did in 2005. For the UK economy as a whole, the comparable index numbers are 112 and 108.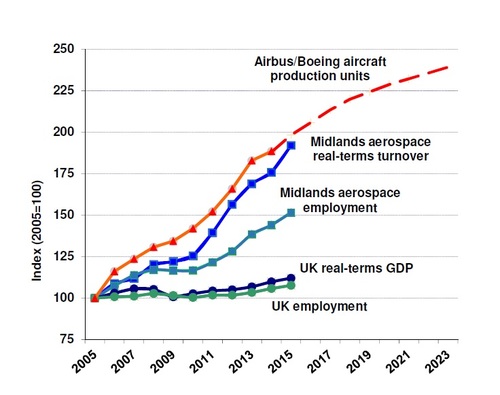 Midlands aerospace growth indices compared

The aerospace industry directly employs one of every 100 Midlands workers, not counting the region's airports and RAF bases.
Benchmarking against other key aerospace statistics is instructive. Rising Midlands aerospace output is closely aligned with the number of passenger aircraft Airbus and Boeing deliver each year. The Midlands has therefore been holding its own in the face of increasing industry globalisation, keeping pace with the steady growth of the industry across the world. The upwards trajectory of projected aircraft deliveries reveals the opportunities ahead for the Midlands cluster – if it can retain its share of global growth.
Continuous improvements to manufacturing productivity play a key role in sustaining growth by keeping prices competitive. Productivity is a measure of the real-terms (after inflation has been subtracted) value that is added by each person working, and productivity in Midlands aerospace manufacturing has been growing at a healthy 3.4 per cent annual rate since 2005.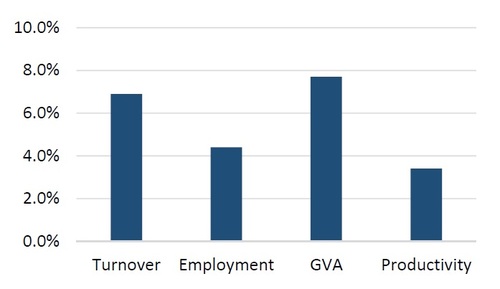 Midlands aerospace annual growth rates since 2005

Midlands aerospace has been bucking the trend of languishing productivity in the UK economy as a whole. The productivity drive helps keep Midlands aerospace buoyant in the face of competition from other mature aerospace industries, in the USA and Germany for instance, as well as lower cost new entrants like India and China. Increasing productivity also helps counteract the squeeze on manufacturing capacity caused by the continuing pressure on skills availability.
But while continuous productivity increases are helping the Midlands retain and grow business now, in the long term Midlands aerospace companies will need to keep creating new technologies if they are to retain their competitive edge. That is why the UK now has an Aerospace Technology Institute and a National Aerospace Technology Exploitation Programme.