Kickstart your Industry 4.0 journey with Aerospace UP
---

Please register below.
You will be able to join this virtual meeting using Microsoft Teams.
You can register right up to the start of the meeting. We will then send you a link to join.


Would you like to find out more about Industry 4.0, Smart Manufacturing and the Factory of the Future?
We are living in an increasingly digital world. The manufacturing industry is currently witnessing a transformation as it increasingly moves towards Digital Manufacturing - often known as Industry 4.0, Smart Manufacturing, Factory of the Future. Companies that are utilising digitisation are seeing both efficiency gains and competitive advantage.
We can help you to start your digital transformation journey of your traditional enterprise into smart factories.
This free workshop series is designed for SMEs who are looking for additional support with their digitisation journey or who are not sure where to begin.
Each session is designed to cover key digitisation areas within a building theme. The aim is to provide you with a greater understanding of digital technologies and how you can apply them to your business, for you to create your own Digital Roadmap as the workshops progress.
Key topics covered in the workshop series:
Session 1 – 'What is a SMART Factory'
Intro to I4.0 & the Why?
Common Language / Jargon Buster
Data Analytics / Digital Dashboards
Paperless Shopfloor
Digital Roadmap (Introduction)
Session 2 – 'Introducing the Connected Factory'
Integrated systems / Cloud / Open Source
5G
Cyber-Physical (Sensors / IOT)
Big Data / AI / ML
Digital Roadmap (continued)
Session 3 – 'Thinking about the Automated Factory'
Digital Manufacturing Methods (e.g. 3D Printing)
Robots / Cobots
Digital Twin
Immersive Applications
Digital Roadmap (continued)
Session 4 – 'Looking towards the Glass Factory'
Digital Disruption
Digital Marketing
Customer Journey / Portals / Self-serve
Digital Supply Chain
Digital Roadmap (final)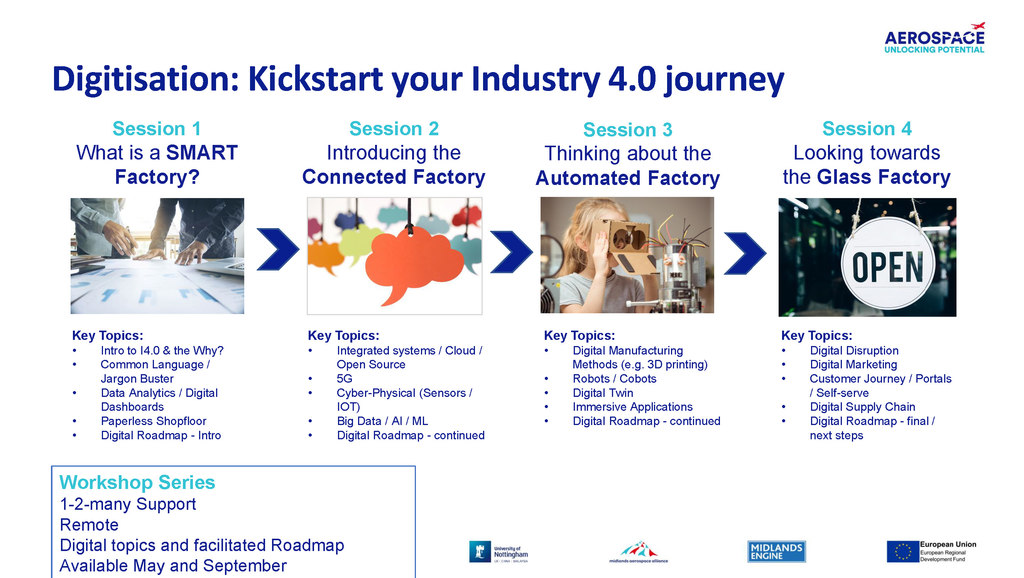 This activity is part-funded by the European Regional Development Fund 2014-2020. This activity is classed as State Aid under De Minimis to participating businesses but is delivered completely free of charge.
Contact
If you have any questions about these events or the Aerospace UP programme, please contact AerospaceUP@nottingham.ac.uk.
---
Are you eligible for funding and expert support?
Why not see now if your organisation is eligible for funding and expert support from the University of Nottingham and the Midlands Aerospace Alliance under the Aerospace UP programme?
Click here to fill in the simple on-line eligibility check & enrolment form. In a nutshell, the criteria are:
SME (business with fewer than 250 employees, turnover less than €50m)
business address in Midlands.
For any questions about the form and eligibility contact Sarah Walker, ERDF Project Manager, Institute for Aerospace Technology, University of Nottingham - s.walker@nottingham.ac.uk.
---
Register now!