Throughout the 1960s Cross supplied rings, springs and wire thread inserts for the Concorde project
---
'Bath invention will go into Concorde engines. The invention of a new type of sealing ring - the specially designed "firsts" - are to be used in the prototype engines of the Anglo-French supersonic Concorde.'
This was how in 1966 the local newspaper reported the invention of the Cross Centipede Ring; the innovative design featured springs attached to the internal circumference to hold it securely in place and ensure that it achieved an effective seal in the intake area of the Olympus 593 engine. Developed specially to meet challenging dimensional, weight and geometric constraints of the engine, the new ring, 4ft. in diameter, not only worked where a conventional ring would be inadequate but was also lighter and cheaper.
Throughout the 1960s Cross supplied rings, springs and wire thread inserts for the Concorde project, on one occasion dropping all other work to ensure that the delivery of an order for sealing ring packs could be reduced from 10 weeks to 5 days to help ensure that the prototype Concorde took off in time. Manufactured from Haynes 25 alloy, these rings were designed to withstand high temperatures in the middle section of the engine.
Since then, Cross has continued to pioneer the development of significant innovations. For example, the centipede design principle has proved to be a successful solution to many other applications, evolving into what is now known as the Cross Cockle Spring, which is manufactured in diameters up to 2000 mm and widely used in aerospace and power generation turbines.
Cross has also pioneered the introduction of Brush Seals to complement traditional seal designs. Brush Seals contain many thousands of fine wires, forming an effective barrier to flow whilst accommodating turbine shaft excursions, thermal movements and misalignments that can damage and instantly reduce the efficiency of a labyrinth seal. Today, Brush Seals are a proven technology in the aerospace and power generation industries, delivering significant efficiency improvements over traditional seal designs.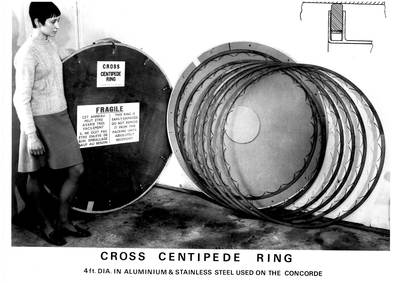 Click here for more information.