2018 winners
Three industry-leading companies have set the benchmark for excellence after becoming the first ever winners of the Midlands Aerospace Alliance Awards for Excellence.
2018 was the first year that the awards, which have been created by the alliance to recognise excellence in business development, supplier performance and technology development, have been made. Winners were recommended by the three MAA Working Groups that focus on these areas.
Category: Award for Excellence in Business Development
Winner
MJ Sections
Awarded by
MAA Business Development Group, chaired by Wendy Stopher
Why they won
MJ Sections have received the award for their successful international diversification strategy, which is allowing the company to rapidly grow with existing Midlands customers while developing links to new customers at the same time.
Not only has the company's business turnover risen by 50% in recent years, but MJ Sections has achieved approval from US companies, Pratt and Whitney and GE Aviation, as well as starting to supply a UK company with parts for the new LEAP engines for French engine maker, Safran.
Craig Fullwood, NPI Manager at MJ Sections, said: "We're honoured to receive such an award, it's fantastic to be recognised by such a superb organisation as the MAA for our success. Our MD has worked tirelessly to keep MJ Sections heading in the right direction and breathed a new lease of life into the company, which has seen us reach another level in a relatively short space of time. "We couldn't achieve any of this without the hard work of our dedicated and loyal teams here in Netherton and Halesowen - we feel very lucky to have such hardworking employees."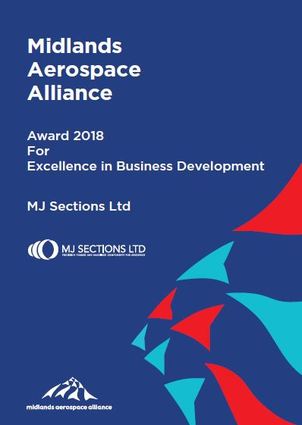 Category: Award for Excellence in Technology Development
Winner
G&O Springs
Awarded by
MAA Technology Group, chaired by Robin Hill
Why they won
Redditch-based G&O Springs led its first ever R&D project as part of the MAA's ATEP programme, starting in 2009. G&O recognised that because there was little empirical test data for springs manufactured from special aerospace alloys, customers like actuation systems makers inevitably tended to be conservative, with high design margins leading to larger-than-required springs and heavy housing.
After their research project was complete, with results validated by the Institute for Spring Technology, customers such as BAE Systems and UTC Actuation Systems are now able to develop smaller lighter aerospace components.
Steve Boyd, Managing Director at G&O Springs, said: "We're honoured to win this award, it means everything to us. We've put a lot of hard work in over the last year to implement new technology. "We don't feel like we deserve the award, if the truth be known, because we're doing what we've always done. It's come as a bit of a surprise to us, but it's nice to be noticed for how we're working hard to improve."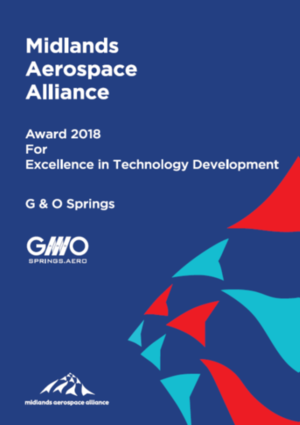 Category: Award for Excellence in Supplier Performance
Winner
Hucknall Sheet Metal
Awarded by
MAA Supply Chain Performance Group, chaired by Annette Rothwell
Why they won
This award has gone to Hucknall Sheet Metal in recognition of how the company's performance has helped its aerospace business grow significantly in recent years. A great case in point is how the company has provided one of its customers, Rolls-Royce, with Fast Make support by making newly-designed engine parts quickly so the development of new engines can be accelerated. This service also provides Rolls-Royce with rapid response support, such as helping to manufacture components for a period to enable Trent XWB production to continue uninterrupted during production ramp-up.
Jason Thorpe, Managing Director of Hucknall Sheet Metal, said: "We're very honoured to win such a prestigious award. It's a tribute to the hard work and dedication from the team in providing complete customer satisfaction."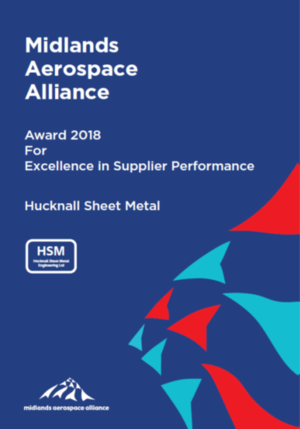 What they won
As well as being recognised for being 21st century champions of excellence, the winners have:
Received an award – in honour of their achievements, given to them at the 2018 Farnborough International Airshow, and been taken out for a VIP lunch at the show
Had their award officially presented to them – by an aerospace VIP guest at their site.
Received an invitation for two to the 2018 MAA Annual Dinner at The Council House in Birmingham.