The largest aerospace industry trade show in the world has begun and it is the MAA's biggest yet
---

We have even more exhibitors and twice the space on our stand at Paris Air Show this year to celebrate the incredible capabilities across Midlands aerospace and Concorde's 50th anniversary too. We have a dedicated area showing how companies across the region were involved in making the aircraft fly.
From now until Friday 21st June, our team is out in force helping our members make the most of the networking opportunities at the show and raise their profiles internationally.
Come and visit us in Hall 2b, UK Pavilion, stand F188 and G183.
In the face of Brexit, there's never been a better time to demonstrate the capabilities of our members and show that they're ready to make deals of their own with customers internationally. Our stand provides an invaluable platform for enabling our 14 exhibitors to showcase their solutions, engage with customers and reach key decision makers.
For the first time this year, we'll be holding a business networking dinner on Tuesday 18th. In addition, we will be holding a drinks reception on our stand to celebrate Concorde's 50th anniversary on Wednesday 19th at 2.00pm. It would be great if you could join us.
Throughout the show, and during the reception, there will also be an opportunity to win a unique Concorde prize if you hand us your business card. The winner will receive two Bulleit whiskies along with original Concorde tags in a presentation box.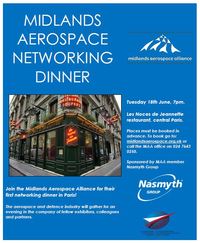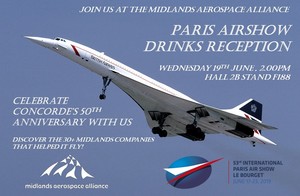 You may also be interested in the UK Industry Reception, which ADS is coordinating, on the evening of Monday 17th at The British Ambassador's Residence in Paris.
To make sure you catch all the news from the show and details about the prize, why not follow us on Twitter or LinkedIn? We'll be sharing updates throughout the week.
Members exhibiting this year:
Bibus Metals Ltd
Carter Manufacturing Limited
Columbia Precision
CW Fletcher & Sons
Dynamic Metals Ltd
G&O Springs
Institute for Aerospace Technology
Maycast-Nokes Precision Engineering
MJ Sections Ltd
Orscheln Europe
Sigma Precision Components
Spincraft/Enginetics - Standex Engineering Technologies Group
Surface Finishing Engineering
Wallwork
And our stand sponsors include G&P Quality Management and Romax Technology.
We hope to see you at the show!