Secretary of State for Business, Energy & Industrial Strategy acknowledges Midlands concerns
---
Recently, the MAA met with Andy Street, Mayor of the West Midlands, and key regional stakeholders, to share how aerospace companies across the Midlands are responding to the Covid-19 crisis and why the aerospace supply chain needs help from government to survive and recover from the continued impacts of the pandemic.
The Mayor then wrote to the Secretary of State for Business, Energy & Industrial Strategy (BEIS) calling for support for aerospace in the Midlands, one of the largest industry clusters in the world. The challenges extend well beyond the primes such as Rolls-Royce and Airbus which tend to make the headlines. We risk losing 25-30% of our skilled aerospace workforce, possibly 60,000 jobs across the UK when we take supply chains into account.
In the letter (which you can read here), the Mayor stressed the importance of government doing everything possible to:
encourage a safe return to flying;
preserve and grow the skills and capabilities of our supply chain companies; and
provide a cashflow support fund for manufacturing SMEs.
Rt Hon Kwasi Kwarteng, Secretary of State, BEIS, has now responded.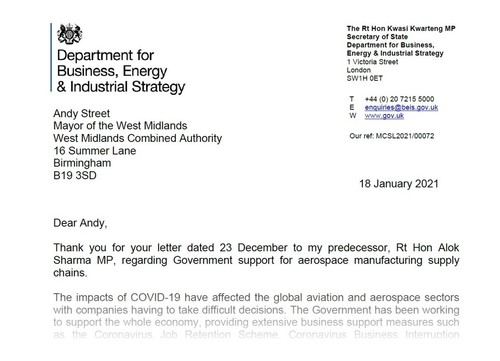 In his letter (which you can read in full here), he acknowledges the challenges faced by the aerospace supply chain.He highlights the work of the Global Travel Taskforce to support a safe recovery of international travel and the government's work to support the long-term competitiveness of the UK aerospace industry which includes a focus on greener aviation to which the Midlands plans to contribute significantly. We are known for our advanced manufacturing capabilities and pioneering approach to sustainable innovation.
We are pleased that, working with West Midlands Mayor Andy Street, we have now opened dialogue around the needs of the aerospace supply chain. But there is much more work to do. Our next step is to consult with more local political stakeholders across our region (including the East Midlands) to discuss how we can all work together to support our aerospace supply chain cluster..
2021 will be a critical year for the recovery of aerospace and we will be doing everything we can to enable Midlands aerospace suppliers to return to growth and prosperity.