MAA members gave a thumbs-up to the latest site tour and briefing.
---
A full complement of 50 delegates took up the invitation to visit Moog Aircraft Group at Wolverhampton's i54 site, and came away full of enthusiasm and praise for the event. In the latest of a series of site visits, Moog teamed up with the MAA to present a one-day event designed to give members – suppliers or potential suppliers – the knowledge to meet the requirements of global competitors in the aerospace world, such as Moog Aircraft Group.

Delegates were advised that the day was not primarily a 'meet the buyer' event; rather it was an opportunity to assess their companies' fit with the requirements of Moog, a world leader in flight control systems and critical control applications.
"These are excellent events," said one member who said he had attended them all. "This was equally good, both in understanding the company and in accessing many key personnel. The session with the purchasing group... was particularly valuable. I was most impressed with their detailed knowledge of the operational issues and with their exceptional candidness."
Adam Cooper, vice-president, supply chain operations at Pattonair, said the event was "extremely valuable" and gave great insight into the past, present and future of Moog. The host company was "very much walking the talk" by heavily investing in its own processes, facilities and people. "With more integrated systems come more opportunities for the supply chain. It was a really beneficial event."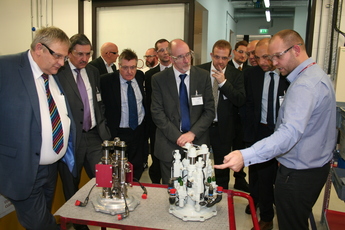 Other delegates said they were "very impressed" with a "well organised day". "Very professionally delivered," said another. "Please relay my thanks to Stuart (Stuart Mclachlan, Moog vice president and general manager) and his team."
MAA chief executive Dr Andrew Mair said: "We believe events like this are invaluable for aerospace suppliers. Our industry leaders like Moog's Stuart Mclachlan who serve as directors on the board of the MAA willingly sponsor the events."
Moog is a key member of the MAA
A leading supplier of integrated control actuation systems for both civil and military aircraft.
Positioned on virtually every platform in the marketplace, supplying reliable actuation systems that are highly supportable and add significant value for its customers.
On board major new aircraft programmes including Airbus A350, Boeing 787, Airbus A380, Embraer E2, Comac C919, F-35 Joint Strike Fighter and a number of key rotorcraft programmes including Bell 525 Relentless, Bell V-280 Valor and the AW609 Tiltrotor.