Sixty MAA members were treated to an inspiring day . . .
---
On 11 February, Collins Aerospace's actuation business treated sixty MAA members to an inspiring day at its facilities in Wolverhampton, West Midlands.
The event, the latest in the MAA's series of 'Inside' events, was hosted by Lisa Swan, Collins Aerospace's Value Stream Director – High Lift and a director of the MAA. The 'Inside' events provide exclusive experiences to get unique insights into leading aerospace companies.
"It was a great pleasure to welcome fellow MAA companies onto the Wolverhampton site," said Lisa. "Large companies like ours rely on their supply base so the more we can all communicate with each other the better and today was the ideal opportunity to do that."
Senior leaders from across Collins Aerospace delivered in-depth presentations around strategy, technologies, business development and procurement as well as answering the many questions participants were able to pose. Topics covered ranged from developments in civil and defence aerospace markets through to new technologies, the site's new organisation into 'value streams' and supply chain relationships.
Guests were also given a two-hour tour around four of the site's manufacturing areas, during which the company, a leader in actuation systems for aircraft wing controls, thrust reversers and helicopter rotors, showcased its capabilities and products.
Dr Andrew Mair, Chief Executive, MAA, said: "We are very grateful to Lisa and more than 20 Collins Aerospace colleagues who gave us so many insights into their business and took the time to answer our questions for a whole day. The learning from the day will be invaluable."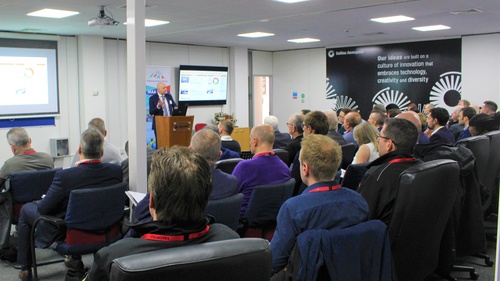 The event was very interesting. Collins Aerospace isn't resting on its laurels. It was impressive to learn from the senior team and I was really motivated by what they are doing.
Chris Pallot, Business Development Manager at Wheelabrator
It was an incredible day for a small company with ambitions like ours. Collins Aerospace was very open with us and gave us a unique perspective on the wider aerospace world we would never otherwise get.
Shaun Stevenson, Sales and Joint Managing Director, SL Engineering
The Inside Collins Aerospace event was kindly hosted by Lisa Swan and supported by David Chard, Strategy and Business Development Director; Gareth Bates, Engineering Site Lead; Andrew Hellowell, Military Operations Director; Mark Cunningham, Value Stream Director Nacelles and Satnam Moore, Director of Procurement UK.
Special thanks go to Georgia Smith, Business Analyst, High Lift, Collins Aerospace and Joanne Cole, Member Services Manager, MAA who organised the event meticulously.
Here are some comments from our post-event participant survey:
A very good day with a very open and honest insight into the Collins Wolverhampton business. There was an excellent level of attention from Collins and the factory tour was really interesting and especially the 'Junior Factory'. The event was very well organised as ever . . .
I thought the day was excellent in terms of the openness & sharing of the information from the Collins team, organisation of the event, networking opportunities to speak to the right Collins personnel.
The day was very well organised with plenty of content supplied by Collins Aerospace.
Really enjoyable day, very informative and fantastically presented by all the staff at Collins Aerospace.
Collins were very open with us.
A well organised day, very open and informative.
Excellent day. The Collins presentations were very useful and not just flowery cosmetic impressions of the company but full of useful Collins strategy information.
Factory tour was very interesting.
Informative and worthwhile.
Good informative day.
Excellent day. Objective was to get an insight into what Collins Aerospace do and this was met. Will reach out to Collins based on the visit to look to help them with business intelligence.
Well conceived, well planned and managed, good use of time. More please! (Between 3 and 5 of these a year would be welcome.)
Really useful to understand more about Collins Aerospace and their organisation. It was also extremely useful in understanding key contacts for future conversations and business.
Fantastic organisation, well done MAA.
A very good overview of the current and future operations of the company.
Thoroughly organised. Good detailed presentations.
For more information about future MAA events click here.