Latest MAA survey shows growth keeps pace with Airbus and Boeing aircraft output.
---
The latest 2016 data reveal the Midlands aerospace cluster is continuing the trend of rapid growth that started a decade ago. Real-terms turnover has nearly doubled compared to 2005. And employment has increased by about 50 percent.
The trend closely mirrors Airbus and Boeing aircraft production rates which are set to triple over a twenty year period pulling along a rapidly growing civil aerospace industry. So far, the Midlands is retaining its share despite strong global competition.
The comparison with slow overall UK economic growth is stark.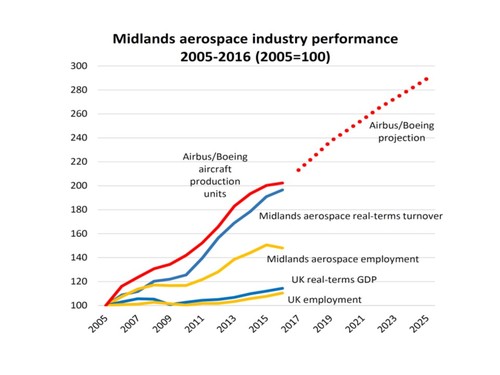 In addition, the data shows that productivity and gross value added (GVA) have continued to rise, reflecting strong management, skills and investment by Midlands aerospace companies. Productivity in the cluster has actually grown at over three per cent a year for a decade.
The MAA has monitored the performance of a panel of 20 typical aerospace suppliers since 2009. Latest survey results show their average business turnover growth per year has been a high 12 per cent. Employment growth has been four per cent.
According the Midlands Aerospace Alliance Chief Executive Dr Andrew Mair:
"Our regional cluster, which is dominated by civil aerospace, benefits 'naturally' from growth at Airbus and Boeing compared to clusters more dependent on defence aerospace. At the same time, the productivity numbers suggest that our supply chain companies are working very hard – and successfully – to maintain their competitiveness. It's interesting to note that improving supplier productivity is the objective of 60 per cent of the NATEP R&D projects* currenly being run in the Midlands."
---
* The £40m NATEP programme is helping UK supply chain companies develop more than 100 novel technologies. It is also enhancing UK supply chain capabilities and networks and enabling them to deliver high added value to future aerospace products and services and increase their ability to win new business with higher tier companies anywhere in the world. The Midlands Aerospace Alliance designed this UK national programme based on the success of its previous ATEP projects.