Brought to you by MAA and MTC
2 Jun 2020
11:30 to 12:30 BST
---
Join the DRAMA team for an hour of all things additive manufacturing for aerospace supply chains.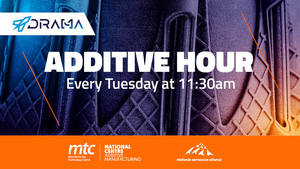 This week we'll be looking at three case studies of supply chain companies innovating with additive manufacturing as they pilot some of the "Support Packages" for industry that the DRAMA programme is developing at the MTC.
Advanced Innovative Engineering, of Lichfield, which undertakes R&D and manufacture of Wankel type rotary engines

Harlow Engineering, of Harlow, which makes high-integrity electrical bus bars for aircraft amongst other products

KW Special Projects, which is building a Digital Manufacturing Centre at Silverstone to offer a range of additive manufacturing technologies to numerous markets including aerospace.
The MTC will also be reminding us of the DRAMA programme and how companies can access the National Centre for Additive Manufacturing now and in future.
Before the meeting, you will be sent the link to the meeting (on Microsoft Teams)
(if you don't have Teams, you don't need special software, or to download anything, you can join on the web in a couple of clicks; for any issues email Pamela Farries)
---
Register now!