Brought to you by MAA and MTC
5 May 2020
11:30 to 12:30 BST
---
You are most welcome to join the DRAMA team for an hour of all things additive manufacturing for aerospace supply chains.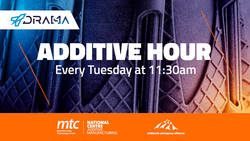 This week . . .
3D printing of tooling and fixturing:
stepping stone to additive manufacturing

Before the meeting, you will be sent the link to the meeting (on Microsoft Teams)
(if you don't have Teams, you don't need special software, or to download anything, you can join on the web in a couple of clicks; for any issues email Pamela Farries)
We're going to hear from three additive manufacturing experts on how to use additive manufacturing to make tooling and fixtures. This is a great place to start any company's additive manufacturing journey.
3D printing of tooling and fixturing: drivers and benefits of AM in tooling. Luke Rogers, 3T Additive Manufacturing

Adoption of additive manufacturing for jigs and fixtures in a contract machining business: lessons learned. Josh Baines – Produmax

Polymer additive manufacturing technologies for jigs, fixtures and tooling: different materials, technologies -- and some limitations. Dr Hoda Amel – Manufacturing Technology Centre
---
Register now!