Brought to you by MAA, University of Nottingham and SEMLEP
25 May 2021
10:00 - 13:00
---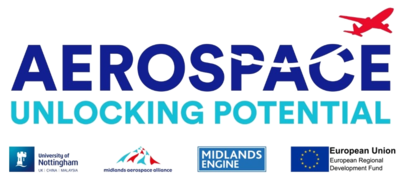 The commercial aerospace sector has been significantly affected by the COVID-19 pandemic, which has led to a dramatic reduction in passenger traffic, in turn affecting aircraft demand. It is expected to recover slowly but travel demand is not expected to return to pre–COVID-19 levels before 2024.
Yet viewed in the right context, the state of the aerospace industry could represent an opportunity for commercial OEMs and suppliers to make needed changes. The next six to 12 months are a critical period in which to prepare for the recovery. It is particularly true in the SEMLEP area which is a place at the cutting-edge of research and expertise in aerospace and where businesses and universities are among the most successful in the country at working together to commercialise knowledge and test new technologies. The region is at the forefront of the future of flight aerospace sector deal which aims to make the UK a leader of hybrid-electric and electric propulsion and to exploit related new markets such as drones and urban air mobility vehicles.
SEMLEP in partnership with the University of Nottingham and the Midlands Aerospace Alliance are hosting an online event to showcase the aerospace sector research, expertise and opportunities in the region and the business support available to SMEs to make the needed changes for recovery.
Agenda
10.00 Welcome & scene setting
SEMLEP
University of Nottingham
Session 1: Support available for companies in the aerospace sector
Businesses stories showcasing how they benefited from business support
Panel discussion
SEMLEP Growth Hub
Midlands Aerospace Alliance & University of Nottingham
Connected Places Catapult
Q&As
11.20-11.35pm: Break
Session 2: Research, innovation and commercial opportunities arising from the future of aerospace – how to capitalise on the expertise in the South East Midlands
Arc Universities Group/Ocavia
Cranfield University
The Aerospace Technology Institute
Session 3: Future of aerospace – Challenges & opportunities as we come out of pandemic
Midlands Aerospace Alliance
13.00 Close
Why attend?
You'll find out about local economic priorities for the aerospace sector and the opportunities for ambitious businesses and entrepreneurs
You'll hear from local business support providers and universities who can help you form collaborative partnerships, undertake research and development, access funding and finance and grow skills and talent to support your business
You'll hear from local businesses about their journeys
You'll network with people you could work with
Who is the event for?
This event is for South East Midlands entrepreneurs, businesses and suppliers who are operating or looking for opportunities in the aerospace sector.
---
Are you eligible for funding and expert support?
Why not see now if your organisation is eligible for funding and expert support from the University of Nottingham and the Midlands Aerospace Alliance under the Aerospace UP programme?
Click here to fill in the simple on-line eligibility check & enrolment form. In a nutshell, the criteria are:
SME (business with fewer than 250 employees, turnover less than €50m)
business address in Midlands.
For any questions about the form and eligibility contact Sarah Walker, ERDF Project Manager, Institute for Aerospace Technology, University of Nottingham - s.walker@nottingham.ac.uk.
---
Register now!
Bookings for this event are being managed by the SEMLEP Growth Hub - click here to book your place.