Midlands aerospace suppliers on an MAA/UKTI trade mission to southern Italy were treated to an intensive schedule of plant visits and business meetings.
---
They visited two primes, eight tier 1s and a big aerospace research centre as well as participating in two networking receptions each with more than 20 local aerospace suppliers, one of which kindly sponsored by E&Y.
The trade mission, organised by the Midlands Aerospace Alliance and UKTI's Italian aerospace experts, was focused on the aerospace clusters in the Campania region around Naples and the Puglia region around Brindisi. The MAA group visited these organisations:
Primes
Alenia Aeronautica Spa – Campania site of ATR 42 and 72 regional aircraft production
AgustaWestland – Puglia helicopter airframe production site

Visiting Alenia
Tier 1s
DEMA Spa (Campania)
Abete Srl
Mecfond Spa
Atitech Spa
Adler Group Spa
Laer Aeronautica
DEMA Spa (Puglia)
GSE
1-to-1 business meetings at Abete Srl
Research centre
CIRA – National Centre for Aerospace Research
The visits to all sites included presentations by the two sides, facilities tours and opportunities for one-to-one discussions. In total, the Midlands team met with more than 50 senior managers during the site.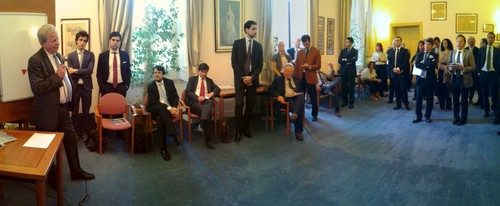 Speaking to reception at British Consulate Naples sponsored by E&Y
Feedback
Feedback from Midlands participants was uniformly positive. Accordingly to Indestructible Paint, "this was one of the best trade missions we have participated in." Said ATA Group, "almost all our meetings were fruitful." MAA guest Beagle Technology reported: "brilliant trade mission: we received our first RFQ before the mission was finished and three others shortly after!"
Dr Andrew Mair, MAA Chief Executive, who led the mission, commented: "working closely with the Italian aerospace clusters as well as UKTI's excellent Italian aerospace experts "produced the goods" for our members once more; having observed all the meetings up close, I am convinced this trade mission will have created significant new business relationships."
Building Midlands-Italy links
This trade mission was the latest of a series of MAA activities with Italian partners designed to provide business opportunities for MAA members.
For more about the MAA's 2013 trade mission to northern Italy click here.
For more about the MAA's participation with member companies at the Aerospace and Defense Meetings Torino 2013 click here.
For more about the MAA's 2014 invitation to meet suppliers from Italy's Torino-Piemonte aerospace cluster visiting the Midlands click here.
In addition, UKTI's Italy aerospace experts have worked exclusively with the MAA directly supporting exhibitors on the MAA stands at the Farnborough and Paris airshows to meet Italian potential customers.
Look out for the MAA's "How to do business with Italian aerospace" workshop now being planned for late June.