First flight of China's Comac C919 marks further step in industry globalisation.
---
The Comac C919 narrowbody airliner flew for the first time on May 5, thanks in part to technologies from Wolverhampton and Birmingham. Specialist systems from the Midlands control its high-lift wing system that is extended to let it take off, and use jet fuel to keep the oil in its engines cool.
The aircraft took off from Shanghai for a 79-minute flight that took it to an altitude of 3,000m. The flight achieved all test objectives, says Comac.
The C919 represents China's ambition to compete with Airbus and Boeing to supply the 20,000+ narrowbody aircraft the world's airlines will need in the next 20 years. 570 C919 aircraft have been ordered so far from 23 customers, mostly Chinese leasing companies or airlines.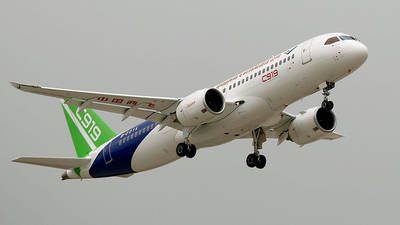 Many of the critical systems for managing the aircraft have been sourced from Western companies like UTC Aerospace Systems, Crane Aerospace & Electronics and Parker Aerospace. The cutting edge LEAP-1C engines are supplied by GE/Snecma joint venture CFM International. China is developing an indigenous engine intended to power the aircraft in future.
Role for the Midlands
Two Midlands companies supplying key technologies for the aircraft are Moog Aircraft Group and Meggitt Control Systems.
The Moog high lift system includes all flap and slat actuation, pilot interfaces, electronic controls, power drive units, wing tip brakes, gearboxes and miscellaneous components. At the time of contract signature in 2012, Warren Johnson, President of Moog Aircraft Group, stated:
China is the world's fastest growing aviation market and the C919 represents a key opportunity for Moog to participate in this growth. We are very proud of our selection by Comac and of our position as a key system supplier on this prestigious program.
Moog separately finalised the terms of a cooperation agreement with Qing'an Group, an industrial partner and subsidiary of the Aviation Industries of China, which was to participate with Moog on the project.
Meggitt Control Systems supplies key technologies that keep that regulate engine temperature, using jet fuel to cool engine oil. Meggitt supplies its fuel oil heat exchangers for all three variants of the LEAP-1 engine, LEAP-1A for Airbus, LEAP-1B for Boeing, and LEAP-1C for COMAC. More than 12,000 LEAP engines have been ordered to date.
Meggitt noted when the contract was awarded in 2013 that the heat exchangers "perform at extremely high temperatures, helping to optimise engine efficiency and lowering fuel consumption." The parts are made at Meggitt's facility in Birmingham.
Other Midlands suppliers to the LEAP engine include forgings specialist Mettis.