08:00 - 16:00, Rolls Royce Learning Development Centre, Derby
---
How future changes in the external business environment will affect Midlands aerospace companies – and what they should be doing right now
This year, the Midlands Aerospace Alliance annual conference will provide delegates with important information about changes in the external business environment for the aerospace industry with potential impacts on their companies and organisations – and help them understand how they can benefit and avoid the pitfalls.
The conference is organised around three big themes:
1. Aerospace market growth: can it really be plain sailing?
The aerospace industry has enjoyed almost continuous growth for more than ten years. Yet historically, aircraft production has gone into a downturn every decade. What does the future hold? What are the factors that will affect future growth and how will they affect our Midlands aerospace cluster?
2. Uncertain economic and political times for UK aerospace
It's one thing to understand how global industry trends will affect your company, but what about the environment for doing business in the UK? Will our overall economic growth and productivity continue to stagnate? How will Brexit really affect the future of the aerospace in this country? What difference will the government's industrial strategy make, and how can our industry take the best advantage of it?
3. Disruptive technologies with big impacts on the supply chain
New and disruptive technologies may radically change today's aerospace supply chains. Everyone in aerospace needs to understand the implications of these technologies for their company - which could offer them new opportunities or threaten their existence. We are going to focus on three key technologies we think have the greatest potential to transform our sector.
Electric propulsion: is the end of the gas turbine engine in sight?
Additive manufacturing: elephant in the room for today's aerospace supply chain?
Composites: continuing a triumphant march onwards?
Agenda
Full agenda coming soon!
Silver Sponsor

Bronze Sponsor

The venue
The conference venue is once again the excellent Rolls-Royce Learning and Development Centre in the city of Derby.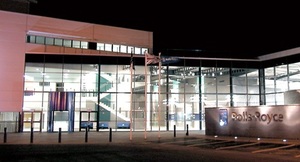 Rolls-Royce Learning and Development Centre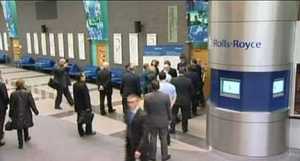 Inside the Centre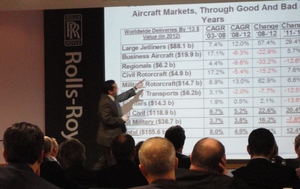 US aerospace expert Richard Aboulafia addresses the first MAA conference
Promote your organisation by sponsoring the conference
Our sponsors help us organise a superb day designed to give you the knowledge you need for your business planning.
For further information on sponsorship please contact; anne.esterson@midlandsaerospace.org.uk
Registration rates for 2018
| | | |
| --- | --- | --- |
| | First participant | Additional participants |
| MAA member company | £250 | £175 |
| Member of partner organisation (ADS, AWF, FAC, NWAA, WEAF) | £300 | £225 |
| Non-member organisation | £350 | £350 |
Click here to see if you are members of the MAA.
---