Case study 1: Technoset ready for AS9100 Rev C thanks to MAA
The MAA's qualified manufacturing specialist Tim Holmes has been working with member company Technoset to get it up to the AS9100 Rev C standard before the coming deadline – now end-2012.
The precision-machining specialist based in Rugby has been keen to adopt the latest revision of the aerospace standard and embed it in the company. Their audit is scheduled to be in the next few weeks.
Having Tim, an IAQC-accredited (International Aerospace Quality Group) auditor, work closely with the company proved to be just what was needed, says Kevan Kane, MD at Technoset:
We've found Tim's support, guidance and recommendations invaluable. His knowledge of the AS9100 series of standards is extremely high and he's an excellent lean practitioner. Because he engages with employees at all levels within Technoset, adopting a very professional approach at all times, Tim's support is an asset to our business.
Kevan Kane, MD at Technoset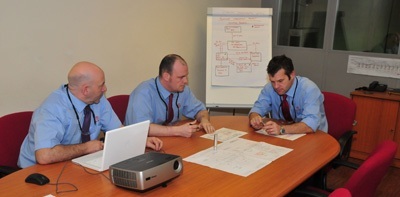 Tim Holmes (centre) at work with the Technoset team
MAA management systems expertise
The MAA works closely with its more than 250 member companies to deliver support ranging from tailored gap analysis and system audits to full Quality Management System (QMS) implementation projects. Tim Holmes believes MAA members need to review their systems on a regular basis and that a neutral external expert can bring benefits to companies:
Suppliers are still required to prove management systems meet customer, regulatory and statutory requirements, and the introduction of PEARs (Process Effectiveness Assessment Reports) now means certification bodies will focus on the evaluation of core processes, their interaction and how they're continually improved.
Tim Holmes
Contact the MAA office on 024 7643 0250.
About Technoset
Technoset, based in Rugby, specialises in the one-hit manufacture of high-precision components. The award-winning SME received the bronze award under the SC21 (Supply Chains for the 21st Century) programme last year. Kevan Kane sits on the MAA's SC21 working group chaired by MAA director Annette Rothwell, Supply Chain VP at Esterline. Technoset is also a founder member of CWAF (the Coventry and Warwickshire Aerospace Forum), a group of local suppliers who are combining their capabilities to provide an integrated service to their collective customers.
For more information on Technoset go to www.technoset.com.
Case study 2: MIBA (formerly Teer Coatings) prepares for technology funding bids with MAA help
MAA technology specialist Bridget Day facilitated two half-day technology roadmap workshops at MIBA (formerly Teer Coatings). The multi-disciplinary team included technologists, sales and quality specialists from the company -- who, thanks to the MAA, have now learned the skill of technology roadmapping.
Having recently been acquired by an Austrian owner, the UK team were able to use the presentation format of a technology roadmap to ensure their plans were presented to the Austrian team in a professional manner and could be successfully aligned into one company strategy.
A technology roadmap was also prepared and used in a TSB funding bid. The roadmap amply illustrated how the company had prepared the bid in an integrated way, taking account of customer requirements, market needs and technology skills at the company.
Dr. Kevin Cooke, R&D Technology Manager said "the training was of a high standard." He was pleased that MIBA was one of the first companies to benefit from the assistance of the MAA's technology roadmapping tool.
We've found Bridget's facilitation and expert knowledge of the aerospace industry invaluable. She encouraged us to think differently, to consider the needs of our customers and help us to ensure that we plan our technology development in a methodical way. Bridget's network of contacts at OEMs and Tier 1 suppliers was essential to the process. The process was thought provoking and led us to new ideas for our business.
Dr. Kevin Cooke, R&D Technology Manager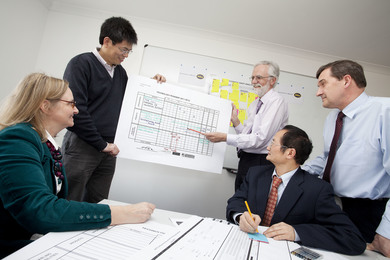 Bridget (left) with the team at Teer Coatings
The MAA's technology roadmapping expertise
The technology roadmapping facilitation provided by Bridget Day, Innovation & Technology Manager at the MAA, is an important part of the portfolio of services the MAA delivers to its more than 300 member companies. Technology roadmapping can help companies of all capabilities and sizes. The tool has been used successfuly with SMEs and larger companies; it has helped make-to-print and service companies as well as manufacturing companies.
Bridget believes that the tool ensures that Midlands aerospace companies are up-to-date and prepared to meet the demands of a growing aerospace market. In addition, it helps them to be ready for technology funding bids or to be part of collaborative work with their customers.
Contact: bridget.day@midlandsaerospace.org.uk.
About Teer Coatings
MIBA (Teer Coatings) is based in Droitwich, Worcestershire and specialises in developing individual coating solutions, polymer coatings, electroplated overlays and PVD (physical vapour disposition) coatings. The coatings are used for
friction reduction: guide pins, solenoid components, valves, spingles, trunnions, sleeves, hinges etc.
wear and environmental resistance: levers and pins
electrical conductiving or electrical screening.
For more information on MIBA (Teer Coatings) go to: www.teercoatings.co.uk.
Case Study 3: G&O Springs benefits from quality MAA support
MAA manufacturing specialist Tim Holmes has been working with member company G&O Springs providing ongoing bespoke management, training and mentoring support.
Following a conversation at the 2012 Farnborough Air Show, G&O arranged for Tim to cover for their quality manager who had just gone on maternity leave. Tim's initial tasks at G&O focused on maintaining AS9100 and NADCAP accreditations, ensuring the company's quality management system was being adhered to and delivering the internal audit programme. But the support soon evolved into something far more value-adding as G&O drew on more of Tim's wealth of knowledge.
Tim's expertise has been of great benefit to G&O Springs, allowing us to not only maintain but also to improve our current systems. From his first visit, Tim did way more than just audit -- he mentored our employees, providing one-to-one training to fix the issues where required. So far he's helped us with problem solving and root cause analysis, developing our existing systems to analyse for common issues and managing our own suppliers' accreditations.
Steve Boyd, MD at G&O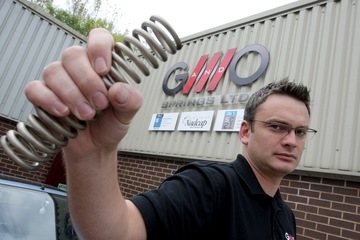 G&O Springs' Steve Boyd
Steve went on to say:
"Building on all the work so far, G&O have arranged for Tim to help us with a capacity planning project, working with our production controllers to improve our scheduling methods. I wouldn't hesitate recommending Tim's services to anyone."
MAA Services – your own organisation can give you the ongoing expertise you need
The MAA is on hand to help you achieve your aims, whether you're developing a strategic approach to performance improvement, auditing your own business needs or needing support with a particular project. The MAA's manufacturing specialist Tim Holmes is accredited to international aerospace industry standards and conversant with the tools and techniques to help you get the most from your business. From a one-off session to regular visits, whether bespoke training or mentoring your own improvement team, the MAA isn't just an expert consultancy service, but a gateway for you and your teams to build valuable networks, access peer-to- peer benchmarking and share best practice. To set up a free consultation contact the MAA office on 024 7643 0250.
About G&O Springs
Redditch-based G&O Springs have been manufacturing springs for over 30 years, working closely with customers at every stage of the design and manufacturing process. One of the first companies to gain national recognition on the aerospace industry's Supply Chains for the 21st Century (SC21) programme, the company strives to constantly improve their manufacturing, test and supply methods to help their customers stay one step ahead of the competition.
For more information on G&O Springs go to www.springs.aero.
Case Study 4: TTI Letchworth achieves world class recognition with MAA support
Surface engineering and heat treatment specialist TTI Group has received an SC21 Bronze award after an injection of expertise from the Midlands Aerospace Alliance. The MAA's manufacturing specialist Tim Holmes worked with TTI's Letchworth site over the course of a year, initially supporting their SC21 deployment then providing follow-up training on value stream analysis and process improvement.
The site is the first heat treatment plant to gain an SC21 recognition award. "Achieving this level of sustained performance is no mean feat," says Tim. "The challenges facing sub-contract special process provision are significant, they have more customers than most and every single job seems to be a priority so planning and prioritising the workload is absolutely key."
TTI signed up to SC21 in March 2012, using the UK aerospace and defence supply chain's signature performance improvement programme to benchmark their improvement efforts internally and to help identify their next steps. Having Tim, an SC21 lead practitioner, work closely with the company proved to be just what was needed, says Yvette Aston, Group Quality Manager for TTI:
MAA provides invaluable support to companies deploying SC21. Their industry knowledge and extensive network helped TTI meet with peers and potential new customers. Through the MAA's industry working group we have direct feedback into the governance of SC21 whilst raising our profile with industry primes and key customers. The MAA invited us to exhibit free of charge at a national event hosted by Rolls-Royce. It's this sort of activity combined with Tim's expertise that makes MAA unique as an industry supporter.
Yvette Aston, Group Quality Manager for TTI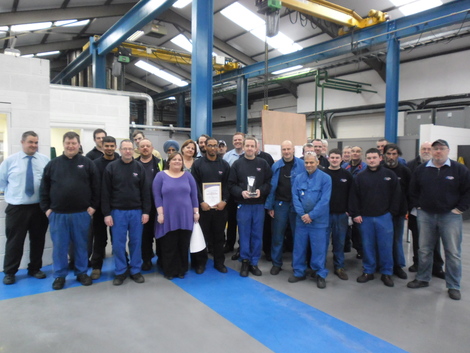 The TTI Letchworth team with their SC21 award
MAA bespoke training
A key recommendation of the SC21 manufacturing excellence diagnostic was for the site to carry out some formal process flow analysis such as value stream mapping. As this wasn't an existing capability for TTI, the MAA worked closely with the company team to develop training materials for key members of the work force. The training, delivered in late 2012, was another key milestone on the journey to recognition.
Tony Alderton, Plant Manager at Letchworth, said:
"The training was very practical and tailored to the requirements of our site. The time spent gathering the information between training days enabled me to understand better how work flows through the plant and was underpinned with some classroom exercises which helped bring everything into focus."
For more detail on support the MAA can provide call the MAA office on 024 7643 0250.
About TTI Letchworth
TTI Letchworth is one of seven sites forming the TTI Group in the UK. The Letchworth plant is the most diverse, providing heat treatment processes to local industry and international customers as well as specialist provision for the aerospace and defence sectors. The site recently received an SC21 Bronze award in recognition of its sustained quality and delivery performance. Group quality manager Yvette Aston also sits on the MAA's SC21 working group chaired by MAA director Annette Rothwell, Supply Chain Vice President at Esterline.
For more information on TTT Letchworth go to www.ttigroup.co.uk
MAA services to members
For more information about MAA services for members click here.