UTC Aerospace Systems, Meggitt, contribute key technologies, extending Midlands' global reach.
---
Russia's first large airliner since the fall of the Soviet Union has made its maiden flight.
The Irkut MC21 is designed to compete with the most popular airliners in the world, the single-aisle Boeing 737 and Airbus A320. The prototype took flight from the Irkutsk Aviation Plant airfield in Siberia, about 2,600 miles east of Moscow. During the 30-minute flight, the plane reached an altitude of 1,000 metres.
The Russian aircraft's debut is the latest in a series of aviation firsts in 2017. The unusually busy year has featured a parade of maiden flights by new models from airplane makers around the world. China's new challenge to Boeing and Airbus, the Comac C919, made its first flight on May 5.
Like the Chinese C919, the MC21 has used many Western aerospace suppliers. Leading Midlands companies UTC Aerospace Systems and Meggitt and their suppliers are contributing key technologies:
UTC Aerospace Systems Actuation Systems designs and manufactures the high-lift actuation system in Wolverhampton
Meggitt Aircraft Braking Systems designs and manufactures the aircraft's braking system in Coventry
UTC Aerospace Systems - Marston Aerospace and Meggitt Control Systems in Birmingham are among firms making parts for the aircraft's Pratt and Whitney PW1000G engines
Supplier participation includes Wolverhampton's Comar Fluid Power, which reported previously:
UTC Aerospace will provide a fully integrated high-lift flap and slat system for the aircraft, with Comar providing a test rig for the flap actuators allowing for quick and easy testing for production testing (PAT), mechanical fatigue and testing over temperature.
The test rig allows for a number of actuators with differing drive geometry to be located on the rig, the input drive is simulated for speed and torque via a hydraulic servo motor and the output profiled load is applied via a closed loop servo controlled hydraulic actuator. Comar have supplied the total package simulating aircraft mounting, kinematics, loading and environmental conditions, including the integrated electronic control system.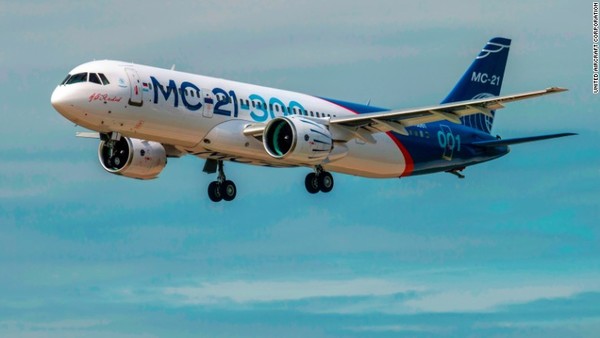 Russia's commercial aerospace industry has struggled over the past quarter century to regain the strength it had during the Soviet era. Through projects backed by President Vladimir Putin, it has sought to shed its reputation for advanced, but unreliable, passenger aircraft.
The MC21 is expected to start flying passengers in 2019 after it completes testing. Russian airline Aeroflot will be the first to fly the new jetliner. The state-run carrier has relied heavily on Airbus and Boeing jets as part of its modernization, but Russian policy has encouraged the introduction of homegrown models, like the MC21.