Biggest MAA presence, best Paris ever for many
---
Companies from across the Midlands gathered alongside the MAA at the Paris Air Show last week. This year's global aerospace trade show was not only the largest in the world but also the biggest for us to date, with 14 exhibitors joining us on our stand.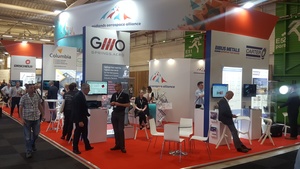 MAA stand ready for business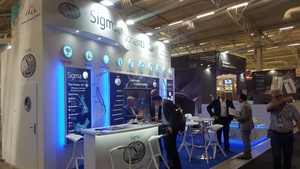 Sigma special pods on MAA stand
The event was the perfect opportunity for companies to demonstrate their capabilities to key decision makers and, getting on with business despite Brexit, make international deals of their own. Our exhibitors could also take advantage of extra opportunities made possible by being on our stand. Between us, we were proud to show just how much Midlands aerospace companies have to offer and why they remain such a great choice for customers in Europe and worldwide.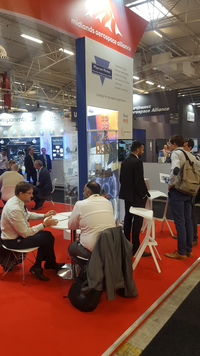 Maycast business meetings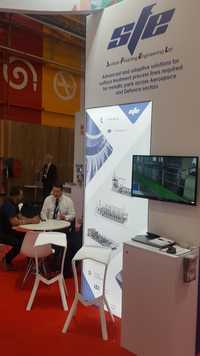 SFE business meeting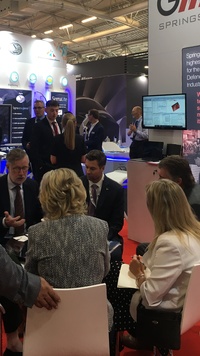 MAA chief executive hosts visitors from major-aerospace-state Oklahoma
There was plenty of positive news during the show for Midlands supply chain companies. Rolls-Royce announced a steady number of orders for airlines such as Virgin Atlantic and Cebu Pacific. Further customer awards were announced that will benefit Midlands aerospace companies, particularly around the LEAP and GTF engines powering Boeing 737 Max and Airbus A320neo aircraft which airlines ordered in large numbers at the show.
We were visited by Andrew Stephenson MP, minister for the Department of Business, Energy and Industrial Strategy. He met with MAA Vice-Chairman Peter Smith of Nasmyth Group and companies G&O Springs and Sigma. Peter ensured he left with a good understanding of the MAA's role. We shared with him the latest aerospace manufacturing developments in the Midlands and discussed matters important to our members like the challenges of REACH chemical regulations in the Brexit context.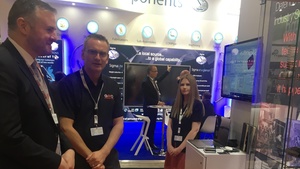 Minister Stephenson with Steve Boyd, G&O Springs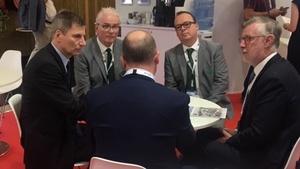 Boeing procurement executives, new Boeing supplier Wallwork, MAA
The Paris Air Show was a great opportunity to celebrate Concorde's 50th anniversary. We had a special exhibit demonstrating how Midlands aerospace companies were pivotal in manufacturing technologies that fuelled, steered and braked the supersonic aircraft, three in four of which are still supplying their sophisticated components and parts to new and next generation programmes.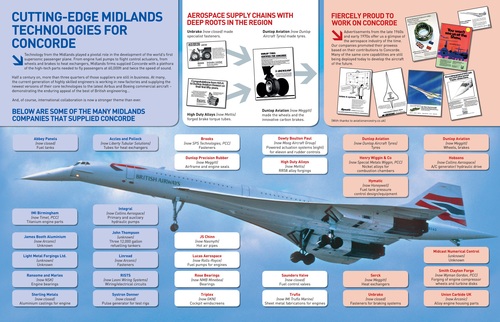 (Ask us if you'd like a large-size version of this graphic)
The Concorde exhibit drew lots of interest from our visitors, especially those who joined us at our drinks reception, including representatives from Rolls-Royce, Meggitt and Moog. It was a lively hour of networking. We also presented a unique prize in our business card draw -- two Bulleit whiskies along with original Concorde tags in a presentation box -- to Andy Sargeant, Managing Director, UFC Aerospace. He generously donated the prize to his colleague, John Batchelor, Technical Field Support Director, Lisi Aerospace.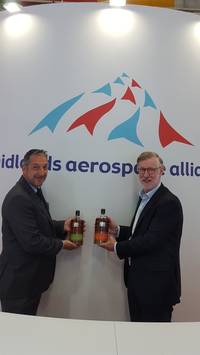 John Batchelor, Andrew Mair, the Concorde prize!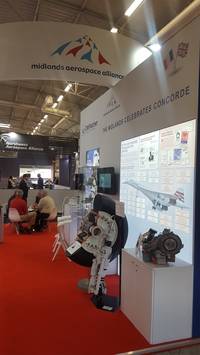 Concorde exhibit on the MAA stand: featuring Meggitt (Dunlop) wheel and brake, Moog (Boulton Paul) actuator, Rolls-Royce (Lucas) fuel pumps
The University of Nottingham's Institute for Aerospace Technology also held a reception on the MAA stand for their guests and their thirty colleagues making the most of opportunities across the show.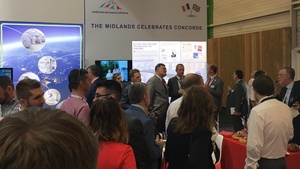 MAA reception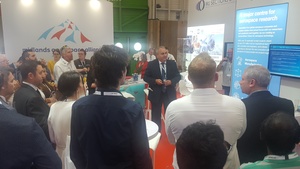 University of Nottingham IAT reception
One of the highlights of the week was our first Midlands aerospace business networking dinner at the Paris Air Show, sponsored by Nasmyth. It proved to be a popular event with 85 guests joining us in a lovely French setting for an evening of business networking. We were delighted to hear that our guests enjoyed the event and hoped there would be more industry dinners in the future.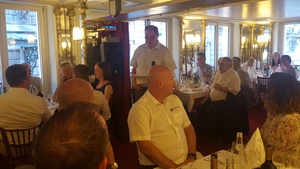 MAA Vice Chairman Peter Smith welcomes guests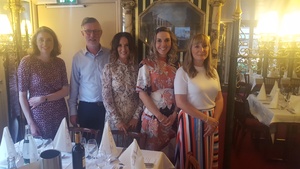 The MAA team
We were featured by Aerospace Manufacturing and Business & Innovation Magazine while keeping our members and supporters updated on Twitter and LinkedIn whether they were at the show, following us from back home or afar. In response, we were pleased to receive so many supportive comments thanking us for all that we were doing for Midlands aerospace.
All in all, Paris Air Show was, yet again, an excellent show for the Midlands and for our member companies.