Yamazaki Mazak, Worcester
---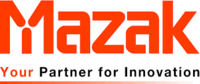 This event is being held at the facilities of MAA member Yamazaki Mazak.
Many companies work in different business sectors simultaneously, which brings challenges but also offers many opportunities to diversify business and transfer innovation from one industry into another. Our speakers, drawn from a range of sectors in our region, from both major OEMs and SMEs, will present their opportunities and experiences gained from cross sector activities.
Confirmed speakes include:
Magna International
Ricardo
Heraeus Noblelight
Mazak
National Composite Centre
Speakers will present their vision for future cross sector working, which is one of the key drivers of the Government's future technology strategy. Speakers will also outline their experiences, and how they have successfully made the transition from one sector to multi-sector working.
Mazak will conclude the day with a presentation on the benefits of cross sector working for their clients, and how in an increasingly digital age, new opportunities are emerging.
After the workshop, Mazak will offer the opportunity to have a tour of their factory and technology cells.
---
Book your place here